Pond or Koi issues, Questions and Comments:
Send questions or comments to: scvkwg@gmail.com
membership:
Our dues are $30.00 per year.  Our fiscal year starts July 1, so if you join before that date, your dues for the remainer of the current year will be prorated at the rate of $2.50 per month.
To join, send your name, address, phone number and email address, along with your check for dues to:
SCVKWGPO Box 9006
San Jose, CA 95157
Meetings:
We meet the third Tuesday of every month at 7:30 PM except December when we relax for the holidays and July when we meet on the third Thursday to prepare for our pond tour at the San Jose Willow Glen Branch Library. Click here for directions to the new meeting place and click here to see the 2013 Club event calendar.
cherry blossom Festival, April 27-28
There was a great turnout at the Cupertino Cherry Blossom Festival.  A great number of people stopped by our exhibit to enjoy the koi and get answers to their many questions.
If you missed this opportunity, you can get a flavor of it by viewing this video of the exhibit and the koi, http://www.youtube.com/watch?v=cdLQcwU9swM
Pond Tour, July 20:
We've started photographing the ponds for our tour guide.  Here's just a taste: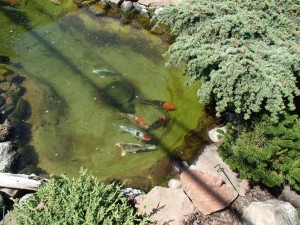 Our Sponsors:
Don't forget to visit our sponsors.  They help make this club possible.  You can get straight to their sites from the Sponsors page.  Just click on their ads.
Buy and sell:
And now you can post your items for sale in the Koi Mart.  Give it a try and clean out that garage!
navigation:
The links at the top of the page will take you to the other pages on our site.  Enjoy and Happy Koi Keeping & Water Gardening.